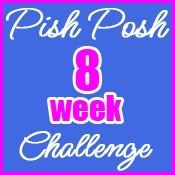 This is the final posting for the
Pish Posh 8 Week Challenge
. Pish challenged her readers to choose something about themselves that they wanted to change and then start doing it. Whether weight loss, breaking a bad habit, starting a good habit or whatever the case may be, she challenged us to better ourselves and check in each week as we write about our experiences.
Personally, I wanted to challenge myself as a writer and decided to bump up the number of posts to my blog. I vowed to post at least five times per week. Some weeks were harder than others, but I met that goal. This is my 41
st
post since starting the challenge two months ago.
This is the first time I have actually accomplished the goal of the challenge. The last time I participated in her challenge, I failed miserably. So, I don't know what is supposed to happen now. Did I win? Is there money involved? Will I become famous? I'm sure I'll find out.
Each week of the challenge, I linked back up to Pish's site and showed the links for my posts that week. Here are my posts for this week:
Saturday, October 20, 2012
Better Than Any Sleeping Pill
Everyone was amazed that I slept through my neighbor's house burning down a few months ago. As it turns out, I won't even wake up when it's my own house.
Tuesday, October 23, 2012
Danger Mouse Must Sign A Release Form
I experience the ridiculousness of bureaucratic red tape and fill out the dumbest form I have ever seen.
Wednesday, October 24, 2012
Maybe I Should Stick With Books
Best Buy
holds me hostage for over an hour just because I want to buy something in their store. A story of atrocious customer service.
Thursday, October 25, 2012
Snot A Good Day
I have been slowly getting sick all week and I use the venue of my blog to whine about it.
---
It has been a lot of fun and I plan to continue posting at this pace. At least for the near future. I have a job that allows me to be able to do so and it
has
become a habit.
Thank you to those of you that have offered the encouraging words. It is appreciated. Congratulations to all the other participants of the Challenge as well.