Today is my birthday and the deluge of happy birthday wishes has been in full force since I got out of bed. Facebook really makes you feel loved.
At my age, not much hoopla is made about my birthday. I'm at that age in the middle of my life where surviving another year has no real significance. In a few more decades, people may start to make it a big deal again. Probably because they will be surprised I made it to the next one.
All my ice cubes are deadly now.
Thank you, Bexstar.
My first Facebook birthday greeting came from the other side of the world. Becky Delport of
I'm Just a Girl
, the same woman who recently sent me brass knuckles and ice cube trays to make bullet shaped ice, wished me a happy birthday at 5 last night. I felt extra special until I realized that New Zealand is 17 hours ahead of us. Becky got the Facebook notification already, but it doesn't matter. Becky is awesome and I might just add meeting her to my
Bucket List
. Kirsten and I have wanted to go to New Zealand for a long time (Kirsten wants to move there) and having a local to show us around is always the way to go. Plus, her last blog post was about wanting people to come see her. I think she meant women to hang out with, but I'll ignore that part.
Monday, I got a card from
Misty's Laws
. Not an e-card, but an actual greeting card in the mail. Once I got past the initial
"how did she get my address"
moment, I opened it to discover this.
INSIDE:


Kinda makes you wish I hadn't opened it in the store, huh?
Happy Birthday
Misty found my
Awards Fairy
! I think this picture must be from earlier in his career. When I met him, he was much heavier and had less hair. Plus, I've never seen him smile.
Right before going to bed last night, I got an awesome gift. I dropped by
Dude Write
to check out the latest post and found that I was the recipient of the
Diamond
Man Card this week. This card is awarded to the post which gets the most votes from the readers. I got this for my September 13 post
Call Me Maybe
.
Also last night, since my daughter is
working now
, she took me out for dinner to Cracker Barrel. She told me as soon as she got out of school that she wanted to go to Cracker Barrel. I mumbled something about being poor and having homework and she said,
"You're birthday is tomorrow and I'm buying."
Well, that changes everything. We had a great time.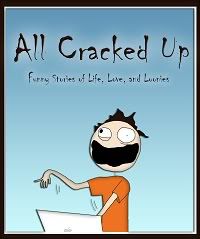 Shameless self-promotion
It is still morning and I don't know what the rest of the day holds, but it's looking good. If any of you are feeling guilty and now feel like
you
need to get a gift, I know exactly what I want. Click this
link
to head over to Amazon and purchase ALL CRACKED UP for your Kindle or Kindle Cloud Reader. It's only $2.99 and is filled with funny stories from various bloggers around the blogosphere. I am one of them.
I knew I could work that plug in somehow.