The coolest thing happened this week. I have known it was coming for a few months, but couldn't talk about it yet. Well, I did talk about it in the non-virtual world. You know. The world where actual people live and sometimes even converse with each other without any type of electronic assistance. I know it's old-fashioned and it's definitely not easy, but some people still do it that way. In that world, I did tell a few people.
The
BIG NEWS
: I got published!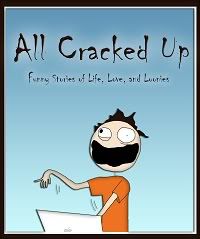 ALL CRACKED UP
was released on Monday. It is available for Kindle at Amazon and will be in other formats soon. It should be in print in a few months. The book can be purchased and downloaded
here
for $2.99.
As much as I would love to take all the credit for this book, I was only a small part of it. Several months ago, a blogger (
Bozo
) got an idea for a book and teamed up with another blogger (
Pish Posh
) to make it happen. They soon contacted me and several other bloggers to collaborate on this book.
I was familiar with almost every person on this list even before we started this project. In fact, a few of my favorite bloggers are included, so I was very flattered to be considered worthy of sharing space with them.
All of wrote stories about our lives that are
mostly
true and
completely
hilarious. Please check out the blogs of each of these talented writers by clicking on the links I provided.
Also, be sure to check out the book by clicking
here
. If you enjoy the book
(and I expect that you will)
, then please consider leaving a review on the Amazon page.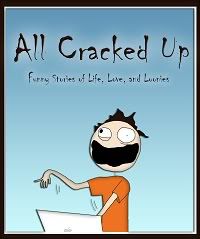 If you would like to help promote the book,
copy and paste the code below to add my button to your blog.
Disclaimer for my friends and family:
While my blog is curse free
(with the exception of one curse word a few weeks ago)
, not everyone writes with the same restraint that I do. The topics of chapters and language used differs from my own. These are all extremely talented writers and very funny. I just didn't want anyone to be unnecessarily shocked by gratuitous
(and sometimes very creative)
use of swear words or discussion of topics that I will leave to your imagination.
Buy the book! Or, just send me congratulatory money so I don't have to split it with the others.