Last night was the event I have been waiting on for months. Let me rephrase that. I would love to see Red since it's been 6 weeks since we have even been in the same time zone, but last night was the next best thing. The new season of
Sons of Anarchy
started last night. I love this show.
My nightly phone call to Red had to take place a little earlier than most nights since the show would be on during our usual talking time. Red decided she would watch it also, so we could text during the commercials
(we can't help it, we're in love)
. I mentioned that she would be completely lost. There is four years of backstory, but she didn't mind.
I can't do that. Any show I'm watching, I have seen from the beginning. From the
very first episode
. I cannot jump into a show in the middle. It bothers me. I mean really bothers me. I feel like I'm missing something and it keeps me from enjoying it. For example, the show
Friends
lasted 10 years. For seven of those years, Ross would occasionally scream,
"We were on a break!"
Only people who had been watching since season three got the full appreciation of that statement. Sure, they could have it explained to them, but it's just not the same. Red insists that I am being ridiculous, but I think this is one area where she just doesn't understand me. Luckily, she loves my quirks.
I love the show
Big Bang Theory
, but haven't seen it in almost two years. There was a period during one of our moves when we didn't have cable, so I got behind. I watched it up to the season four finale when Penny wakes up in bed with Raj, but haven't seen an episode since. I just can't watch them out of sequence. I can watch the reruns on TBS, but I won't watch season five or six until I get them on DVD.
I think this stems from my hatred for spoilers. I cannot stand to know anything that is going to happen later in a movie or TV show. The writer's and directors put a lot of thought into creating a mood and deciding how to reveal something to the audience. Learning it early takes the pleasure out of it.
This is why I am very reluctant to watch a movie with someone that has already seen it. Most people aren't very good at keeping their mouths shut. There aren't many people that are rude enough to just tell you the ending
(although, I have met those people)
, but most seem to have to give some sort of commentary.
Years ago I was watching a movie when a friend came over to borrow something.
Seeing what I was watching:
BOB: Ooh! I love this movie.
ME: Don't say anything. I don't want you to give anything away.
BOB: Don't worry. I hate when people do that, but watch this part right here. What just happened is very important for later.
ME: (clicking TV off) Seriously?
BOB: (confused) What? What'd I say?
In that short phrase, he had just given away the end of the movie. He had pointed out the little clue that was meant to be referred back to later in the movie. I didn't have to wonder at that point because he pointed it out. The entire mystery of the movie was gone.
My mother is one of the worst. (
←
I love you, Mom.) I will not watch a movie with her that she has seen, especially if she really liked the movie. Every few minutes she exclaims,
"Watch this part right here. This is good!"
or
"Pay attention here. You really don't want to miss this part."
Not only am I already looking at the screen when she says this, but I am tuned into the movie. I don't need to be told to watch it, I am watching it. Plus, she blurts out the surprises seconds before they are revealed. She doesn't do it on purpose. She just gets excited.
As the camera begins to pan the room, you can see the feet of the killer. The music begins to pound as the camera slowly moves it way up his body. After 90 minutes of trying to figure out who the killer is my mom, unable to contain herself any longer, blurts out,
"IT WAS JEREMY!!!"
Now they were about to show us the killer in a few seconds anyway, but the pleasure of watching a movie is not in knowing the identity of the bad guy, but in the way the story is told. There was a reason they were slowly panning across the room. It was to build anticipation.
Seconds after this scene,
she was eating Tarantino's face
I go to great extremes to know as little as possible about shows or movies I will be watching. If I see a movie trailer that looks interesting, I put it in my phone to add to my
Netflix
queue and then avoid seeing any other trailers for it. I don't want to learn any additional details. The less you know, the better the movie is. I don't even read the movie descriptions on the Netflix DVD's that I don't remember. If it showed up, then I apparently wanted to see it. Do you have any idea how great it was to watch
From Dusk 'til Dawn
not knowing that it was a vampire movie? There was no warning. It blew me away. Had I known that ahead of time, I would not have enjoyed it as much. I would still have enjoyed Selma Hayek in her little outfit, but the surprise at the end of the runway was awesome.
When it comes to TV shows I have to be especially careful. I don't watch commercials and even have to be careful what magazines I pick up. Since I watch very few shows when they are actually on, I am typically a few seasons behind. I didn't start watching
Dexter
until it was three seasons in. I was catching up on DVD and opened a magazine in a doctor's office where I was met with a picture of Dexter standing over the casket of his girlfriend in season four. Great! Rita dies! I did NOT want to know that.
Sons of Anarchy
is one of the few shows that I watch as it is on. I'm watching the current season and have watched from the first night it was on, so there is not much chance of spoilers. However, I occasionally miss an episode and have to wait a few days for it to come to OnDemand. When that happens with a popular show, it gets difficult to stay in the dark about the contents of the episode.
Last year, one of the deputies walked into dispatch and asked me if I watched Sons of Anarchy. I told him I loved that show and he got all excited and said,
"Can you believe they killed Piney last night?!"
I tried to not show the seething hatred for him on my face as I told him I had not seen last night's episode yet. He quickly apologized and then proceeded to tell me the rest of the plot line.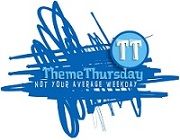 I once read that watching TV burns less calories than sleeping. If that is true, then why is it so much work?