Back in March, a great blogger named Pish Posh started the
Get Fit Challenge
. In a nutshell, she challenged people to work on improving something in their lives and check in each week so we could see each other's progress, encourage one another and hold each other accountable. Plus, once you publicly put it out there and know people are watching, there is a little more incentive to succeed. Most people chose weight loss or exercise regimens as their topic, but people jumped in with a variety of issues to tackle for the duration of the challenge.
It was a great idea and I met several new bloggers through this challenge. Plus, it was through that challenge that the idea for a book of bloggers was born. This book was released September 1st and I am one of the 17 bloggers featured. You can buy it
here
.
I believe that challenge in March was a huge success and when I saw that Pish Posh was doing a similar challenge again I had to jump on.
This time around I will not be tackling issues with my weight or fitness. I have been going to a gym regularly for the last six months and I am getting in better shape all the time. It's a slow process, but it is happening.
My goal is to be a better writer. I would like to eventually publish a book that I wrote. I would love to make money writing. Not just books, but as a featured writer on paying sites or in publications. I am not looking to get rich from it or even support myself in that way, but to make a few extra bucks would be great. Although, if I could make a living at it, that would be even better. I would never have to wear pants.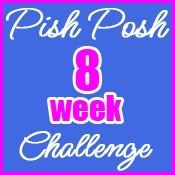 I have no way of measuring this over the course of the 8 week challenge
(not the wearing pants part, that can easily be measured)
, but I can set some goals for myself. One of the best ways to improve one's skill as a writer is to
watch tv
write. So that is my first goal. For the duration of this challenge, I will post four times a week in addition to my Monday posts which I will be linking back to the challenge. That means five posts per week. Last spring, I posted every other day for two months and I could feel the creativity just start flowing. I want to get to that again and then take it further.
The winners get a free copy of
ALL CRACKED UP
. Since I am in the book there is no way I will wait 8 weeks to read it, so I will already own a copy. However, being competitive and wanting to win anyway, I need to think of someone to pass it on to in case I do win.