When I first started this blog, I didn't know where I was going to go with it. I didn't have in mind what it was going to be about or how often I was going to post. I simply intended to write.
I took me a little while to find my voice, but once I got comfortable with it the ideas started to flow much easier. I have really enjoyed this blog and intend to keep doing it for a long time. However, sometimes I get distracted by other things and the blog gets pushed to the side.
This not intentional. I just forget about it as I am doing other things. There were a few months last year when I only posted once the entire month. While I write more now than then, several times this year I have let a few weeks pass with getting back to the keyboard.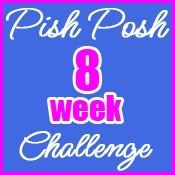 Everything I read tells me that one of the key practices to becoming a better writer is to write, write, write. This is why I knew exactly what I wanted to do when I saw that
Pish Posh
was doing her 8 WEEK CHALLENGE again. I challenged myself to post to my blog at least 5 times per week including the weekly link up back to her blog. So far, I have kept up the goal I set for myself.
Despite having made it, this week was a bit more difficult than last week. The neighborhood kids have been gathering sticks to place in front of my door. There are literally hundreds of sticks and twigs stacked two to three feet high every morning. Actually, I only assume it's the neighborhood kids and not some black magic curse from the witch down the street who hates me for calling her little demon child a little demon child. Earlier in the summer, after she shook her
spatula
wand at me, I started finding dead birds in my yard.
My week in review (click titles to go to post):
9-17
My First Love
I told the painful story of my first girlfriend and how she dumped me as soon as another guy showed her some attention...eight years later.
9-18
Irregardless, Let Me Acks You a Question
I begged the users of social media to make an attempt to use the written language in such a way that we can decipher it on the first attempt. I also had some words for people that have been exposed to one language their entire lives, but still don't know how to pronounce common words.
9-19
Happy Birthday to ME!!!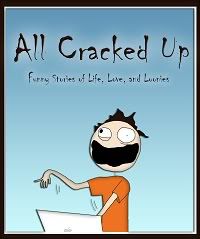 It was my birthday and I gave special acknowledgements to the bloggers that made it a little more special. I also shamelessly plugged my book. In, fact, I'll do it again. Click book cover
(on right)
to purchase
ALL CRACKED UP
.
9-20
Sign, Pole...MAILBOX!!!
My son used to drive me crazy in the car. This is the game I came up with to keep him from whining. He still whines today, but he's moved out and I can't hear it anymore.
I've enjoyed the challenge these last few weeks. Knowing that I have to write keeps me more alert to search out topics to write about. I am always thinking about my next post and how to word it.
It drives my daughter nuts.