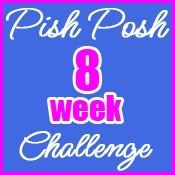 After eight weeks, the Pish Posh 8 Week Challenge has come to an end. I don't know the total number of people that participated, but I have read some great stories from several of them. Most of them were health related. Goals were made for running, better fitness patterns, weight loss, quitting smoking and healthier eating habits. I challenged myself as a writer to post at least five times a week to stretch my writing skills.
My purpose in choosing this as a goal was to improve my writing. All the literature that I can get my hands on suggests writing every day to strengthen your skills. There are other things to do as well. Reading exposes people to other authors and additional styles. I have no trouble in this area. I go through a book about every two days. Another tip is to get out and live life. This helps you to build experiences to inspire your writing. I actively pursue this one when the weather is warmer. Once it gets cold, my life inspiration will have to come from the inside of my warm house. Despite the various tips given for improving ones writing, I concentrated on the frequency of my posts.
I don't know if my writing has actually improved over the course of this exercise, but it has done much to start me on a writing habit that I plan to continue for a very long time. Yesterday, I started on a new challenge to post
every
day in November for the
National Blog Posting Month
sponsored by BlogHer. Since I had already decided to maintain this increased pace anyway, I decided to jump on board. This should help to drive the habit in even deeper. If I can get comfortable writing every day, I hope to use this new discipline to start and complete a novel over the course of the next couple of years. Or one year. I really don't know how long it takes to write a book.
When this challenge was presented, I knew immediately what I wanted to do and jumped right into it. However, I had some serious concerns that I wouldn't have anything to write about if I was writing everyday. Any time I had a good idea I had to use it immediately and come up with something new for the next day.
There were a few days when I struggled with something to say. Several times, I sat down at my laptop without a clue as to what I was going to write about. However, one of my favorite posts from the challenge grew out of one of those evenings.
Back In My Day
was born out of me looking through the photos on my laptop hoping for inspiration. I took a series of my childhood pictures and made a story. It was fun.
I wasn't happy with every post I put up over the last eight weeks, but I have several that I am proud of.
Morgan Freeman, We Will Miss You, But Not Yet
After several times of reading on Facebook that Morgan Freeman was dead, I wrote this piece.
With Friends Like These
I submitted this piece to
Dude Write
and even won an award for it. It's a cute story about how one of my friends stabbed a guy in a bar as a joke. Sounds like fun, doesn't it.
Things That Make You Feel Old
This was one of those posts that was born out of me not knowing what to right. While crying in front of my computer, a news story about Princess Diana came on TV. I was shocked that this happened 15 years ago. I scoured the internet for the dates of things I remember from my lifetime and wrote about how much time has passed since then. It turned out to be a popular piece.
Silence Speaks Volumes
This is one of my
"I hate children"
posts. As mean as this post sounds, it's not really a joke.
Sign, Pole...MAILBOX!!!
This post, written about 6 weeks ago, quickly jumped to the rank of most viewed post. It's an explanation of a game we used to play in the car to entertain the children and keep us from wanting to drive into a tree. No one else plays this game.
Not everything I wrote was good. There were several stinkers mixed in the bunch as well, but it was worth it to develop the daily habit. Plus, the two months spanned by this challenge brought me more blog traffic than any other months. September saw my highest numbers ever and my October stats were 1,800 views higher than the previous month. I couldn't be happier with how this challenge played out for me. Especially since I failed so miserably at Pish's last challenge.
Thank you, Pish, for offering this challenge. I know it helped a lot of people. I will be joining in next time if you choose to do this again in the future.
Click
here
to hop over to the Challenge site, read the other participants' stories, and vote for your favorite.