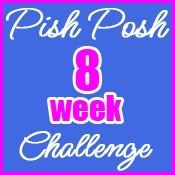 Yesterday, I got to write in my first guest post. For 8 weeks, I participated in the
Pish Posh 8 Week Challenge
with several other bloggers. When it was all over, Pish Posh held a vote for the participants and I won!
Among the scores of prizes I am being showered with, one of them was a guest spot on her blog. So, Why don't you pop on over there and join the party.
CLICK HERE
to read the guest post at The Pish Posh.