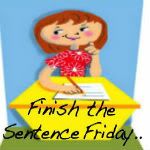 This post was written in preparation for
"Finish the Sentence Friday."
I know it is not Friday yet, but each week, Kate gives a heads up on what the sentence for the next week will be. I wasn't really interested in last week's prompt, but I knew exactly what I would be writing about when I saw the prompt for the following week and I will link up as soon as her blog is ready for it. Here is her sentence to finish:
I get so frustrated when…
---
I get so frustrated when…people interrupt me.
I will have to explain this one, especially since it doesn't always bother me. It is only frustrating when it happens under certain conditions.
Most people don't like to be interrupted when they're speaking. We are taught from a very young age that it is impolite. Cutting someone off mid-sentence is right up there with chewing with your mouth open, staring or pointing at people, calling someone names, and putting your
penis
elbows on the dinner table. It is just not something you are supposed to do. However, it seems to happen with the same frequency as Charlie Sheen calling his coke dealer.
I am fully aware that as much as I hate having this done to me, I am not totally innocent. I have been known to do it as well. However, I do try to keep myself in check and hopefully don't do it very often. Truthfully, the people that don't do it often I really don't even notice. The times I
do
notice is particularly when I have a story I am trying to tell or have something I
really
want to contribute to the conversation, but for some reason the other person just won't let me say it…even after several attempts.
Years ago, I was married to a woman who had this bad habit. After coming home from work, I would try to tell her something about my day. As soon as I would start, I might get cut off with a suggestion for us to out for dinner that night. I would reply and then start my story again. After a sentence or two, she would ask if I remembered to pick something up from town. I would answer and then get back to my story. After about the fifth time of being cut off, I would give up.
This happened often enough that I felt like a jerk when I would sometimes explode and burst out,
"Are you going to let me tell my story or not!"
She would then look at me surprised and say,
"Sure. Go ahead."
Apparently, she had no idea she was doing it. I sought a new way to try to let her know without actually saying anything so we could both save face. I tried several tactics.
Continue speaking - When cut off, just keep talking like it never happened. This is difficult since you don't want to have a reaction when it first happens. You just want to continue on naturally.
Benefits - You get the satisfaction of knowing that you have easily communicated what they have done without saying anything to them about it.
Drawbacks - Your story isn't really being heard until they realize what is happenning and stop talking. Then they missed the first part and you may not be understood. Also, they end up looking like a jerk if done in a crowd.
Start over -When interrupted, politely stop talking and wait your turn again. Regardless of the direction they have taken the conversation, start your story over again (from the beginning). Do this every time you are cut off and always restart, do not just pick up where you left off.
Benefits - You may get to deliver your entire thought in one piece the way you intended it.
Drawbacks - You end up sounding like a babbling idiot.
Talk louder - When you get interrupted, just keep talking (see #1), but raise your voice to talk over the person that has interrupted you.
Benefits - You don't have to start over and you get to finish your thought.
Drawbacks - You look like a jerk.
I tried every one of these with no success. It was noticed that I was doing it and it usually only succeeded in making her mad. I even explained why I was doing it, but nothing worked. Plus, another drawback to each of these practices was the mental removal of myself from the actual conversation. I started concentrating on the game rather than the words she was saying. Also, once I got into the habit of employing one of these techniques, it had a way of getting used outside the privacy of my home as well. I gave up on the talk louder technique when I raised my voice to talk over my boss when he had interrupted me at work. I didn't mean to, but I had developed the habit. My explanation to him didn't seem to help matters.
Today, when someone cuts me off, I just go back to telling my story when it is my turn again. I don't even notice until about the third or fourth time it has happened in the same conversation. I have learned that it is even more rude to tell someone they have interrupted you than it is to interrupt someone. After several attempts at trying to tell the same story, I just give up. In fact, I usually just excuse myself from the entire conversation.
Of course, then they want to know why I am being so quiet. In these situations, I have also learned that it doesn't really help to ask them why they won't let you speak, but are also concerned when you don't. I have yet to figure out how to properly navigate this conversational maze.
They look very attentive.
I sometimes wonder if it might be beneficial for society to adopt the conch shell method from
Lord of the Flies.
The one holding the shell gets to speak. When it is passed to someone else, then they may have their turn. Only the person holding the shell gets to talk and anyone who starts speaking without the shell is reprimanded by the entire group. The method seemed to work for them…until they started running naked through the jungle, bashed Piggy's head in with a rock, and started killing each other for sport. We may need to figure out where things went wrong, but it was a good system for a little while.
In the meantime, I will use my favorite go-to method of dealing with people most of the time…I will avoid them. I don't seem to have these problems when I am sitting at home.
---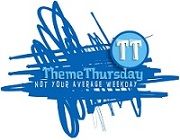 This week's post also correlates to the writing prompt supplied by
Something Clever 2.0
for its Theme Thursday post. This week's theme:
Pet Peeves
.
That worked out pretty well. Knocked out the themes for two different linkups in one post.