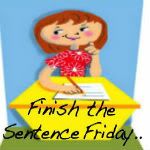 This post is in response to the
Finish the Sentence Friday
prompt from the blog
Can I Get Another Bottle of Whine
. Every week, Kate offers the first half of a sentence and gives bloggers the opportunity to finish the thought.
This week's sentence:
When it comes to reality TV shows, I...
---
When it comes to reality TV shows, I have to say, "I just don't get it."
I am not saying anything against the people who watch these shows and I will not try to make the claim that I have never watched any of them. I did watch the first season of
Survivor
and I watched one season of
American Idol.
It was the year that Jordin Sparks won and Blake Lewis did an incredible rendition of Bon Jovi's
You Give Love a Bad Name
, but I vowed never to do that again. I enjoyed it, but it was on four nights a week! It took up too much of my time.
I won't go as far as to say that they are all part of what many call trash TV (although some of them definitely are), but I really don't understand their popularity. Especially when so many of them are obviously staged. Even if we had never learned of the reshoots and intentional situations created on
Survivor
, some of these shows are just ridiculous.
The very idea that we are expected to believe that filming the day of a tow truck driver/repo man should be entertaining would already be insulting enough. However, the creators of
Lizard Lick Towing
decided to insult their potential audience even more by depicting every collection as a possible life or death situation.
I am sure that most repo men have a few good stories, but these guys get into a fist fight in almost every episode. In the show, they have had their windows shot out by deer hunters, been assaulted by a naked man, and even had to fight off a ninja. That's right…
A NINJA!!!
You don't see that every day and I think there is a reason for it. Ninjas aren't just running around on the streets and when they are around, they like to stay in the shadows. They don't just jump in front of the camera for a nationally syndicated show.
Some shows make sense.
COPS
has been running since March 1989 and will be showing its 850
th
episode this season. Following police officers around to see what their day is like…I get it. The same for the copycat shows
Alaska State Troopers
and
Border Wars
, but do we really need a show about process servers and meter maids? I have seen both of these.
Other professions just don't need their own show. There are shows about lumberjacks, truck drivers, bounty hunters, babysitters, funeral home directors, pawn shop owners, house flippers, costume designers, bar owners, auto mechanics, lifeguards, tattoo artists, and many others. I'm just waiting to see a show about the trials and tribulations of pizza delivery drivers or office temps. To really get some ratings, someone need to do a reality show about a reality show production crew. Can you imagine the hardships they have to endure as they put up with some of these reality stars?
Sometimes a show is really well made and gets a decent audience.
American Pickers
has a large following without creating any crazy antics to drive ratings.
Deadliest Catch
has kept its integrity by just showing the lives of people in that profession without scripting. However, the most popular shows seem to be of a different genre. This is where the 'trash TV' comes in.
HOARDERS
I have actually helped clean out houses in this condition
The American audience seems to get a kick out of watching the dysfunction of other people. Maybe it makes them feel better about themselves. The stars of the
Jersey Shore
are fully aware of the laughing stock that they are, but they are making a lot of money and thousands of people tune in every week. The same goes for the cast of
Here Comes Honey Boo Boo
, any of the
Housewives of…
shows, MTV's
Real World
type shows and
Mob Wives.
If you want a real look at dysfunction to help you feel superior to someone else try out shows like
My Strange Addiction
or
Hoarders
(I actually enjoy this one. It's disgusting, but I can't look away)
.
These shows are everywhere and take up a huge percentage of television programming today. They even have their own channel (TruTV). They are so popular, I don't think they're going anywhere for a while. Maybe I could petition TLC to do a reality show about bloggers and make a little money.