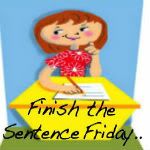 This post is a response to
Finish the Sentence Friday...
at
Can I Get Another Bottle of Whine with My Morning Quiet Time?
This weeks question:
One time when I was bored out of my mind…
---
When I was in college, I was what the college labeled a 'non-traditional' student. I was not considered traditional because I was over 25 years old. I could also get that label from having children. The third way was to be married. I met all three of those criteria. I was a 30 year old married man with two kids.
While I have no regrets about going back to college, I will advise people that what I did is
NOT
the way to do it. Do what you have to do, but if you have the opportunity to plan it out, do college first. Turning in poop stained term papers from changing a diaper while doing your homework is always a possibility otherwise. Most professors will mark off for a paper that literally stinks.
I had always thought of myself as still a young person until I had this adventure. The kids
(and I choose that term purposefully)
I sat in class with did not relate to my life. I made a few friends, but we were at different places in maturity. Plus, in the summertime, they all left campus and went home. We had actually moved there and lived in married student housing. The campus was our home year round. Technically, we lived on campus despite it not being in the dorms and in the summertime the place was dead.
I enjoyed my years at school, but without classes to go to the summers left us with a lot of free time. I often found myself doing things I would never normally do, but I had time to kill. It was this extra time that lead to a moment that I am less than proud of.
Our third summer in college, my daughter was four years old and had just discovered make up and understood the concept of getting pretty and playing dress up. Of course, she hadn't started wearing make up yet, but sometimes her mother and her would play with lipstick, blush and mascara. Kirsten loved doing this.
One Saturday morning, Kirsten brought me some nail polish and wanted me to paint her toenails. I had done this a few times before and had actually gotten pretty good at it. I kept the colors inside the lines and everything. Once I got her toes looking all pretty, she asked if she could do mine.
Not my feet, but best picture I could find of color.
She didn't normally get to play with fingernail polish because of the huge potential for a mess, especially in the hands of a four year old, but I decided to let her have a little more fun. So, we stepped out onto the balcony and I let her do my toenails. It may not be the most manly thing to do, but I was bonding with my daughter…
AND
for a
four year old
, she did a marvelous job. We cleaned up the spots were she got a little off target and when it was finished, they looked pretty good. I now had sparkly blue toenails.
We sat outside and drank sweet tea while we let our nails dry. It was a beautiful day, we had just had a good time together and I didn't give what I had done a second thought…until my wife saw them. After she finished laughing, she gave me a hard time about it, but it was soon forgotten.
The next day, I was out in the playground with my kids. Soon, a few other fathers came to join us and it wasn't long until one of them looked down at my bare feet and commented on my pretty toes. He called out for everyone within earshot to come look at my feet.
Knowing that I had been discovered and also knowing that I was amongst friends, I proudly showed them off and withstood all the teasing, well aware that it was going to come for a long time after this. I decided right then that when I went back in the house, I needed to take the time to remove the polish. I didn't regret putting it on, but there was no reason to keep it.
When lunchtime came around, I gathered my kids and started back to my apartment. As I rounded the corner, I ran into the Dean of Students. He had come by to welcome a few new families who would be starting in the fall. We exchanged a few pleasantries and he suddenly stopped talking as he glanced down and noticed my toes sparkling in the sun. He just stared at them silently for a few seconds as I tried to curl my toes under my feet.
When he looked up again, he slowly finished what he was saying and excused himself. He didn't ask about the polish and I didn't offer any explanation. In fact, I don't think I said a word. I just stood there. Red-faced.
I removed the polish as soon as I got back to the apartment. The Dean has still never asked about the blue toes.
---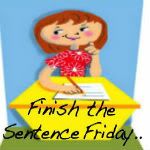 One time when I was bored out of my mind…I polished my toenails.