I'm one of those nerds that does this stuff for fun.
I can't get away from the stats page on Blogger. I check those numbers more often than Lindsey Lohan calls her dealer. I have read from several bloggers to ignore those numbers and just write. The stats will drive you crazy. However, I can't help it. I'm studying to be a math teacher. I like numbers.
Numbers just make sense. There is very little theory or interpretation involved in math. An answer is either right or wrong. Numbers represent hard facts and with my overly analytical and logical mindset, they just make sense to me.
When I look at my stats I am given a count of how many people have visited, which pages they looked at, what site brought them to mine and several other pieces of information. Sometimes these numbers will teach me something and at other times they just are what they are without making sense.
In my opinion, the best post I have ever written is
Biblical Mistranslation and Special Interest Groups
. I was proud of that one and it quickly rose to the #1 spot. Why shouldn't it? Doesn't it just make sense that the best would find its way to the top? I used to think so, but my mind was changed last September.
NASA said this was the size of a bus
In September, I wrote
The Sky Is Falling
about the UARS satellite that was falling out of orbit and was going to crash to Earth. Within 20 minutes of publishing the post, it had over 200 hits. WHY? It wasn't that great. I believe a few of the jokes were clever, but it was far from being some of my better material. After digging through my stats, I realized that the surge of traffic was due to the immediate relevancy of my topic. Millions of people were online searching for information about whether they would wake up in the morning with a satellite in their living room. Had I posted the same words a week later it would not have gotten the same audience.
I was actually a little bothered that this post was sitting in my sidebar as the second most popular post. A piece that I believe was better had to be bumped to make room for it. Regardless of how I felt about it, the numbers were what they were.
My audience has grown recently and a new post today sees 5-6 times the traffic of posts from a year ago that I consider to be quality posts. Having this bigger audience explains why five of my top ten most read pages have been posted in the last two months. However, timing and playing the game still play a big part.
As of right now, the post ranked #5 as the most popular is the one I wrote two days ago:
The Awards Fairy Came By
. This was a post recognizing some awards I received and I passed them on to some other deserving bloggers. While I enjoy pointing people to other good blogs and showing appreciation for the people that gave me special recognition, most award posts
(from other bloggers as well as myself)
are far removed from the quality of writing that is normally found on their site. My last post was mediocre at best, but I know why it is ranked so highly.
If you read THE BLOGGESS,
no explanation needed
The most successful blogger I know of,
The Bloggess
, has a huge following. She recently spent literally days signing autographs for a mail out. Celebrities send her pictures of themselves doing mundane things (Wil Wheaton collating paper, Matthew Broderick holding a spoon, etc.) so she can send the pictures to companies that sent her a picture of a celebrity using a product to sell it. Her blog is huge.
There has been times I've been sitting at my computer and get a notification that she has posted a new blog. I try to leave comments on other blogs to increase my traffic and exposure to other bloggers. However, her following is so big, by the time I read her post and leave a comment, I am comment #156.
This is within just a few minutes of her blog going up.
Yesterday, she posted a blog about a
conversation she had with her husband
. I left a comment
(like I always do)
, but this time I was the second comment. I don't know why, but I wasn't lost in the middle of hundreds of comments never to be seen by anyone. I was at the top.
Since her blog lists the most recent post of the person commenting, I started getting traffic. Because of her huge audience, I pulled over 100 hits from that one sentence comment within an hour and the numbers are still climbing. Does that post deserve to be at the #5 spot? Definitely not, but I am starting to see how this works.
If I want crazy traffic, it is about more than just quality posts, I need to be at the right place and the right time. I need to pay attention to trends. How much traffic did I lose by not posting about the Monkees within moments of hearing about the death of Davy Jones? I need to be dropping words into my posts to attract more British traffic: Oxford, Princess Diana, Buckingham Palace. I should be taking advantage of the presidential campaigning right now and name drop Newt Gingrich, Barack Obama, Mitt Romney and Rick Santorum. I also need to site stalk
The Bloggess
and other successful sites like her.
(I will be watching to see what happens to my search engine results because I just did this.)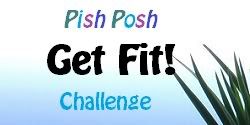 This post is part of PISH POSH's Challenge.
Click picture for more info.
As much as I like numbers, I am beginning to understand why I need to stop relying on the stats page. I cannot base the quality of my posts on these numbers. While a well written post will attract some extra traffic, there are many other factors to consider. I need to get back to just writing what I like to write and let the rest take care of itself.