You may want to read my last two posts to get up to speed on the events of the last couple of days.
Day 1:
Dealers and Winos and Pimps - Oh, My!
Day 2:
Dealers and Winos and Pimps Must Sleep In
My last post was written on the morning of the third and last day we were in Indianapolis. The plan was to get our van back that morning, see as much of the city as possible (now that we were mobile) and head back home. However, it did not work out that way.
I called at 9 a.m. to get an estimate of when they thought the vehicle would be done so I could get a cab and head in that direction. He said they were close to having it finished and they provided a free pick up service, so there was no need for a cab. HOORAY!!!
Since they were close to being done and we did not know how far from the car shop we were, we decided not to venture from the hotel. They could call at any time and we had no idea how long it would take them to get there.
The hotel requires checkout at 11 a.m., so we moved to the lobby. Kirsten surfed the web while I read a book. It was hard to relax knowing that every passing minute is another minute that we are NOT out enjoying the city.
The mechanic finally called at 12:30, but said it would take a moment for the driver to get to us, because he had just left for a 30 minute lunch. As soon as he got back, he would be on his way.
After 3 hours of leading me to believe the driver was going to show up at any moment, the driver calls to get the address and tells me it will take 30 minutes to get to us from the shop. He shows up 45 minutes later at 4:15. I learn from him that he was delivering a part out of state and was not on a 30 minute lunch. Had I known that, I would have hopped in a cab and had my vehicle back by 1 p.m. However, due their messing around and trying to cover for each other, we sat in a hotel lobby for 4 hours longer than necessary and missed half a day of exploring the city. We drove away in our van a few minutes before 5 o' clock and $600 poorer.
Finally back with our vehicle, we decided to visit the Indianapolis Children's Museum because one day a month they are open until 8 and it is free during that time. Plus, the other things we wanted to see were closed at this point. This seemed like a good plan at the time, but there were things we had not considered.
This children's museum is ranked as the best in the country by three different children's magazines and it offered free admission for only four hours once a month. This means that it is the most popular place in the state during that time and is the last place you want to be if you actually want to see anything. About 5 blocks from the museum, traffic stopped. In the next 30 minutes, we moved less than a half block. Everyone was trying to get to the museum. At the rate we were moving, we would never make it to the museum parking before it closed. Luckily, a person pulled away from the curb right beside us, so I nabbed that spot and we walked the remaining distance.
The last children's museum I had visited was more of a hands-on science center and it had been several years since I had taken my children. This place, while impressive, was designed for
children
. By children, I mean 5 to 8 year olds. My daughter is 16. We gave it a go anyway.
They had an Egyptian market for the kids to dress in Egyptian clothes and play like they were working in various jobs, There was a mirrored maze play area, lots of interactive activities and places for parents to sit while their children ran wild. I was most impressed by the LEGO exhibits.
However, what I hadn't considered was the thing I should have been most concerned about. There were children everywhere. Thousands of them. Because of the museum being free at that moment, the entire tri-state area showed up with their kids...and their grandkids...and the neighbor's kids.
They were screaming and pushing and fighting and crying. It was awful. Parents were yelling for their kids to come back despite not having any idea in which direction they had run off to. Those parents that like to walk their kids on a leash spent their time trying to untangle from other safety minded parents. It was a complete madhouse. It was wall to wall screaming banshees.
Kirsten and I decided that even without the wailing midgets, this was not what we had in mind and decided to leave. Nothing on this trip had gone according to plan and it was time to give up. We vowed to return to Indianapolis on another day. Next time we would plan better.


---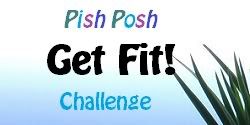 For this post I am participating in the
Get Fit! Challenge
presented by
Pish Posh
. She is challenging her readers and other bloggers to write about an area in their lives to could stand improvement. Please visit her site.